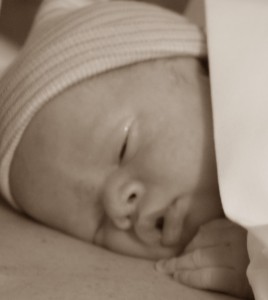 The New Year has welcomed the arrival of a very small rosy-cheeked precious package for my oldest son and his wife. A sweet tiny girl has come into the lives of four cherished "Little Men" between the ages of two and soon-to-be nine. Emma Ruth made her entrance into the world, and with it the lives of my son and his energetic tribe are never to be the same.
Little men have turned into protectors of a most precious gift, and the focus of their world has forever changed. Tender kisses are planted on Emma's soft downy head as they reluctantly respond to gentle reminders… "Go wash your hands first" soon to return with merely a hint of dirt remaining from their continual adventures of little boy exploration as they gently pet her ever-so-soft cheek. The petite princess they have been praying for has arrived safely.
Little girls and their delightful ways forever change your world. It is hard to put into words the effect they have on a family as well as each individual. Their presence commands attention and nurturing in a unique way that is subtly different than little boys. From tender and soft to rough and tumble they draw from those around them a thoughtful response to their needs and in return provide a contentedness that envelops those nearby.
Welcome to the family Emma Ruth. You are much loved by your grandparents, aunties, uncles, mommy, daddy, and four wonderful big brothers.
What are little boys made of, made of?
What are little boys made of?
Snips and snails
And puppy-dogs' tails,
That's what little boys are made of.
What are little girls made of, made of?
What are little girls made of?
Sugar and spice
And all things nice,
That's what little girls are made of.