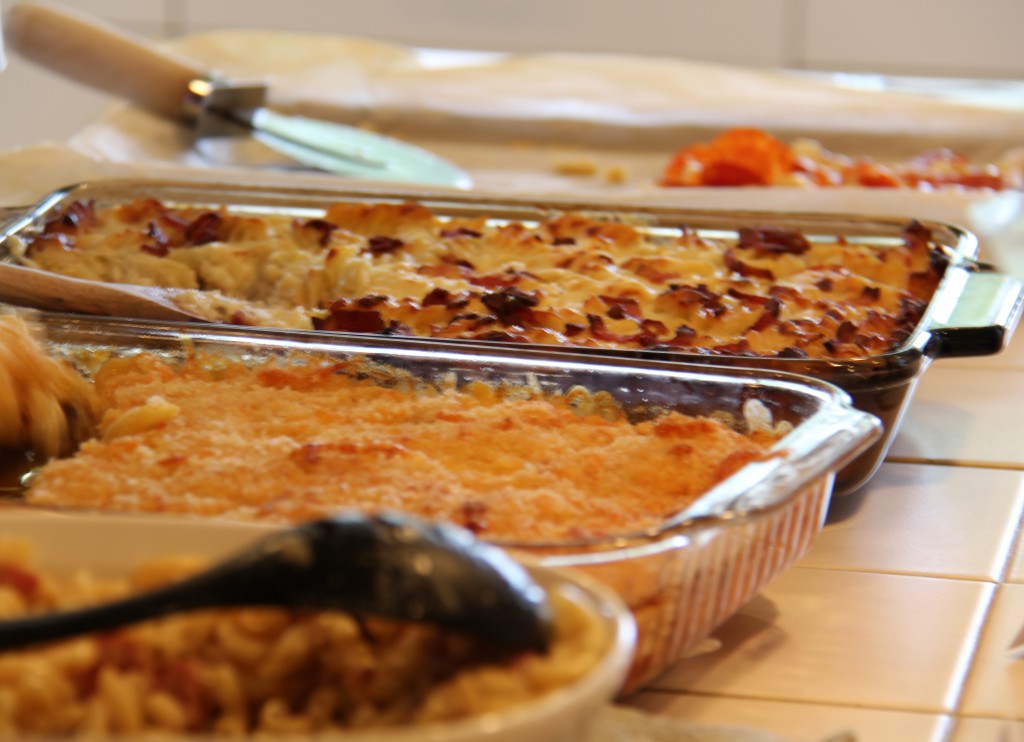 The mac & cheese taste-off was a great success, with a total of seven entries, including two extremely creative ones: pepperoni pizza topped with macaroni, and my brother's "visionary" contribution–Oreo Cookies sprinkled with carefully placed noodles… The pizza was a huge hit; the cookies not so much.
Although we moved a bit slower after consuming the deliciously warm and cozy carbs, the idea of a "taste-off" definitely served as a wonderful catalyst for family coming together. My brother, sister, and I journeyed down memory lane while sorting through family photos from my parents, laughed and chatted as we tasted the great variety of recipes, and entertained ourselves yet again as we exuberantly planned the next "taste-off" for spring 2014.
Much to my surprise, after all the votes were counted there was a tie: my sister's macaroni nestled in a creamy sauce with a hint of blue-cheese, and the gooey goodness of traditional cheddar prepared by my sister-in-law. They were both deserving of the "silver spoon" trophy awarded at the end of the festivities, and would be perfect for special dinners for family and friends–although I don't foresee craving macaroni and cheese anytime soon.
Instead of thinking about the work involved in cleaning, shopping, cooking, and cleaning yet again, I strive to reflect on the value of creating opportunities for family to come together–to experience the glue of relationships through food, laughter, and hugs one more time. When all is said and done, it is family that counts. The love of parents, children, siblings, is not to be taken for granted, but rather nurtured whenever possible.
As my niece frequently reminds me, "Food is cheap glue"…  I treasure her perspective.
 "If you're afraid of butter, use cream."–Julia Child
Copyright 2013 by Apron Girl @ Chainsaws & Parachutes
All rights reserved.