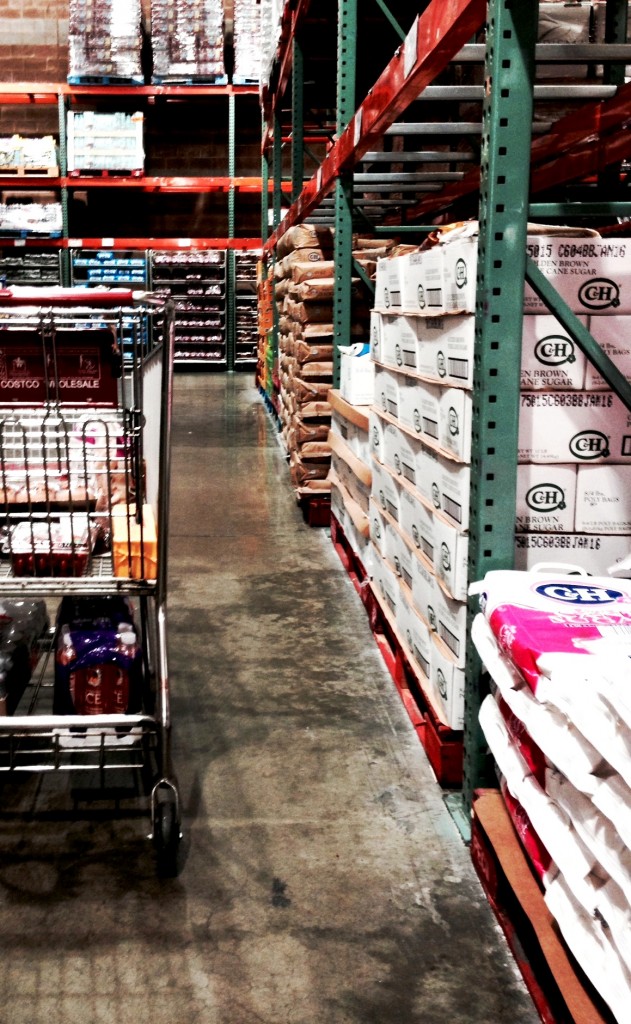 Trips to Costco have never been high on my son Michael's list of favorite activities. With his wife recuperating at home following an unexpected c-section, I volunteered to accompany him on his next Costco outing. The opportunity to create new memories with my delightful son was the draw, and being chauffeured made it all the better.
The "Costco Friday" excursions were going along smoothly until I broke my foot. Not maneuvering easily on crutches and tired much of the time, I declined his invitation when the following Friday arrived. He took a detour to my house hoping I would reconsider or someone else might go with him but sadly he headed out alone… so near the end of my second week on crutches, I was getting stronger and let him know I was ready to give Costco a try. The rendezvous was planned. I showered, dressed, and planted myself on the kitchen stool with the anticipation of an eager school girl awaiting a chum to whisk her away toward a great adventure. Playful banter with Elizabeth eventually convinced her to join us and "The Three Amigos" headed out.
We embarked on our journey not fully knowing what awaited us in the form of a wheel chair so the decision was made for Michael to drop me off by the front door while Elizabeth located my mode of transportation. She delivered my non-motorized chariot and I situated myself securely before she whisked me inside whereupon the excitement began!
When I shop Costco by myself, I enjoy browsing leisurely through the merchandise cognizant of the fact it may be gone before I return. When I go with family members (names withheld to protect the innocent) who prefer quick in-and-out trips I have learned to focus on the essentials and hope I don't forget anything as I take care of the business at hand.
Costco with Elizabeth was an unexpected thrill! With the threshold behind us, she propelled me over the smooth concrete floors maneuvering tightly around every corner! Whether it was the impish side of her coming out just because… or she delighted in having absolute control over the situation… her countenance radiated glee as we flew through the aisles.
She chuckled, I laughed, and Michael followed us with the cart. No longer at "eye level" the merchandise became a blur and was behind me before I could vocalize my need. Occasionally I would blurt, "Wait… I need one of those!" She stopped, backed up adjacent to the product, and paused for a mere moment as I "threw" my acquisition into the cart and onto the next aisle we proceeded. Our laughter was a bit conspicuous for bystanders as it may have looked like a school girl prank… except this school girl was clearly a grandma.
Friday evening the dark clouds of adjusting emotionally and physically to my limitations parted and radiant joy and laughter burst through! The glee we shared is dear to my heart. Nearing sixty years of age I am now able to embrace the humorous antics of my children in a manner I could not when they were youngsters…
In the most ordinary of situations, laughter lurks around every corner.
A joyful heart is good medicine,
But a broken spirit dries up the bones~
Proverbs 17:22