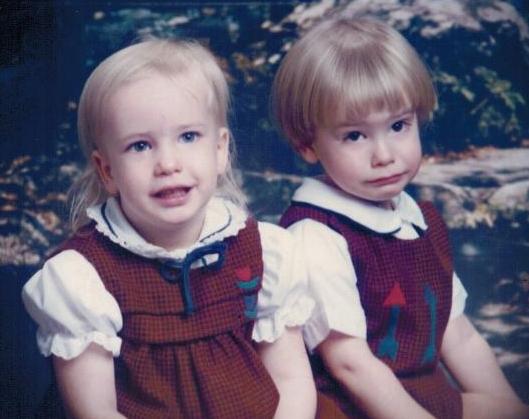 Thirty-two years ago two sweet faces made their way into my heart, and to this day I vividly recall being wheeled out of the hospital with a babe in each arm, and as I gazed at one and then another, I marveled aloud, "How did God do that?" I was overcome by the wonder of God creating two separate and distinct individuals within me at the same time.
One the instigator, the other a willing albeit reluctant participant, I assigned them the chore of cleaning their room–which entailed returning their clothes to the dresser and placing the toys back in the drawers–whereupon Michael cheerfully announced a short time later, "We're all done!" As I entered their bedroom I noticed the floor was in fact cleaned up, but my momentary pleasure was quickly dampened by the awareness they had completed the task much too quickly and the bedroom was suspiciously tidy and void of any wayward toys. As I proceeded further into the room, I noticed the tell-tale sign of a carefully closed closet door and slowly slid it open–clothes, toys, and every other item that had previously been scattered about clung together in a chaotic array. Michael's solution was to stow everything behind the door and convince his sister to comply, which in their four-year old minds was a triumph–they had evaded the dreaded task of returning everything to where it actually belonged.
To this day Michael still comes up with innovative ideas, but Elizabeth has become considerably more hesitant to follow his lead… Memories of their childhood antics abound, the years have flown, and they are more precious than ever.
Michael and Elizabeth, you are gifts from God into my life and you are forever in my heart.
Happy Birthday♥Mom