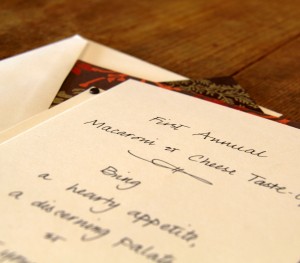 It was as if you could hear the throaty sound of car engines purring in anticipation of things soon to come; while a starting gun held high in the air was poised to begin an important race…
My sister piled open cookbooks one on top of another as she immersed herself in researching recipes–my son Michael, organized a "test run" for his entry–and a general flurry of activity was reported all around.
A creamy rendition of mac & cheese served at Anna's wedding served as inspiration for a "Taste-Off" with macaroni and cheese the star attraction. With the date and time finalized, a friendly competitiveness emerged as family prepared for the main event… Saturday, the 28th.
Who will be the winner, and receive the trophy? Stay tuned…