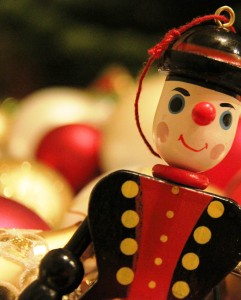 The ambiance of a winter power outage envelops me once again, as the gentle purr of mechanical fans delivering warm air from the furnace, along with the background hum of various computers, has grown silent. While the dim light from an overcast, gray sky manages to make its way through the windows, water delivered by our faithful pump nestled deep within the ground, has ceased. Faucets are void of water–toilets don't work without water… Such are the joys of "being on a well" rather than having the luxury of city water.
It's amazing how dependent I have become on the convenience of electricity. Lights by which to easily see on a dreary day, electrical appliances, as well as running water and flushing toilets are precious amenities of everyday life that make common tasks easier to accomplish. Without them, my Christmas cleanup continues, albeit slower, as the hallways and closets are a bit dark without the constant companion of a flashlight.
Christmas is about memories… I fondly remember my youth and the thrill of discovering Santa had come and piled presents under the tree. Peeling back the delicate tissue encasing a beloved decoration I recall who they came from and the people who have been a part of my life. But most of all, I reflect on the birth of Jesus over 2,000 years ago, and the gift of love that came upon the earth
Another Christmas has come and gone, and as I pack away the ornaments and decorations I am saddened the festivities are gone for another year. However, hidden just beneath the surface of wistful desires, ready to burst forth, is the best memory of all–Christmas is the celebration of the birth of Jesus. He still lives, and my days are full of hope!