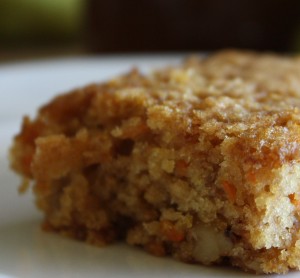 As the arrival of fall awakened the desire to breathe in aromatic delights from the kitchen, my search began for a new recipe. After tasting this cake it became apparent I had a winning recipe that could lend itself to modifications. With its moist texture and sweet flavor it is reminiscent of carrot cake with a much simpler ingredient list. This cake vanishes as it is consumed by passers-by, and is perfect for guests.
In medium size bowl, cream together buttery spread and sugar.
Mix in syrup.
Add eggs one at a time beating until incorporated.
Stir in flour, baking powder and carrots until the flour is mostly incorporated.
Add nuts, stirring gently.
Spread in greased 8″ x 8″ pan–tapping pan on counter to release air bubbles. Bake at 350 F for 25-30 minutes until edges pull away slightly from the pan, and the center is set.