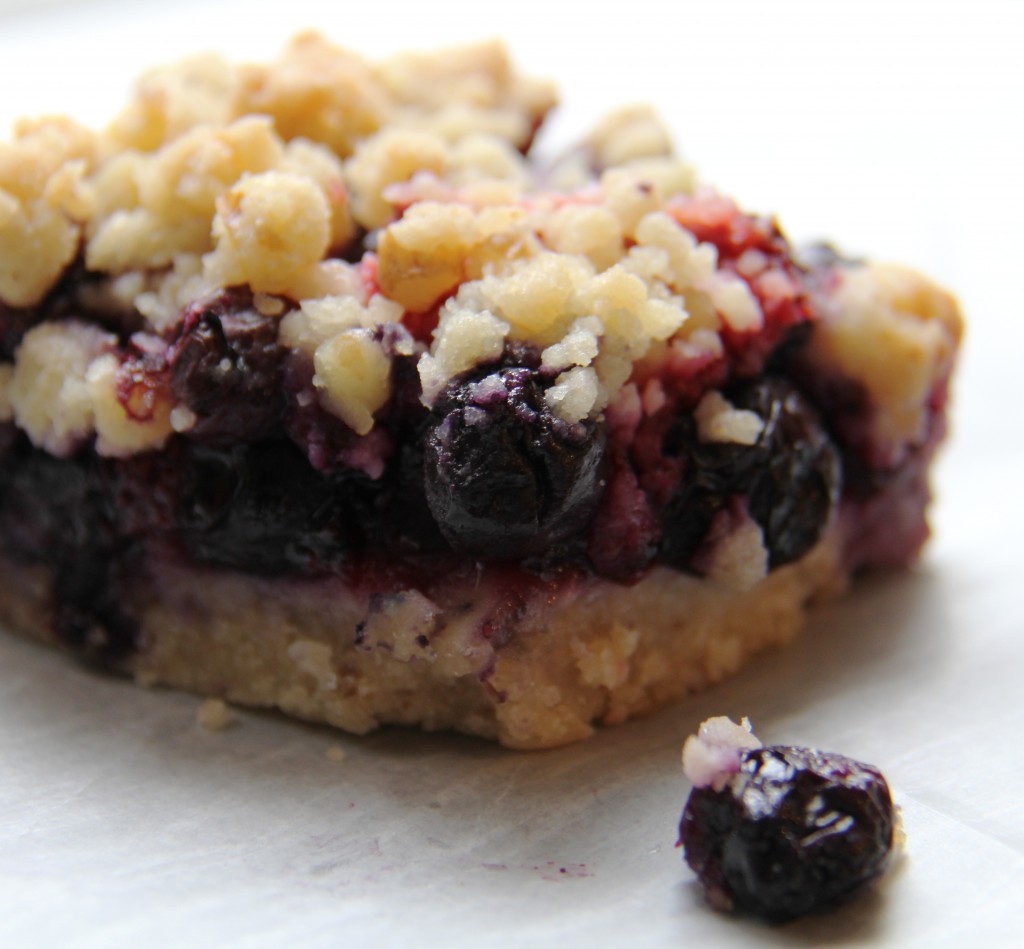 Searching the internet for a GF fruit bar for Miss Anna I located numerous delicious looking recipes but most included oats. I love the nutty flavor of oats in baked goods and understand why it is often included, but unfortunately for Anna, she needs to avoid wheat as well as oats. Modifying the original recipe has yielded a yummy fruit bar I would serve to anyone at anytime. They have a fruity flavor that recalls the bounty of summer and the crust has a pleasant texture with the addition of chopped walnuts. To date I have used jam alone, jam with frozen berries, fresh and frozen berries combined, fresh berries by themselves… and they have all turned out "scrumpdelicious"!!!
Crust & Topping
1 1/2 cup GF flour blend (I use Trader Joes)
1/2 tsp. xanthan gum (omit if your GF blend contains it)
1/8 tsp. kosher salt (yes, kosher makes a difference)
1/4 tsp. baking powder
1/3 – 1/2 cup granulated sugar (depending on desired sweetness)
1/2 cup finely chopped walnuts
6 TBS melted butter melted and cooled ( I use buttery spread)
1 egg at room temperature
1-2 TBS lukewarm water if dough is too dry
Fruit Layer
3-4 cups fresh and/or frozen berries (allow to partially thaw if using frozen)
1 TBS instant tapioca
1/4 cup sugar
1/8 tsp. kosher salt
In large bowl, place all the dry ingredients, and whisk together. (I use a stand mixer)
Add walnuts, cooled butter, and egg.
Mix until well combined with the appearance of "small peas" in size. Add 1 TBS of water at a time if dough appears too dry.
Set aside 3/4 cup dough for topping, and press remaining dough into bottom of pan.
Bake in preheated oven for 5 minutes.
In separate bowl, mix berries, sugar, and instant tapioca.
Removing crust from oven, smooth berry mixture over the crust and sprinkle the remaining dough evenly on top.
Return to oven and bake for 45-50 minutes or until berries are bubbling and the top is lightly golden. Let them cool before cutting, and enjoy!!!
-Preheat oven to 325 F and prepare an 8″ square pan by greasing or lining with foil both directions thus allowing you to lift it after baking to cool easily.